Vendor Hack –  Monster Camp
Designs with LARPers in Mind!
By now you've probably bought those masks, you know the ones? They get knocked off 80% the day after Halloween (aka LARPer Christmas) or like 3 months before Halloween at select Michael's or CVS(es?). They are generally passable ½ to ¾ masks which allow NPCs to breathe reasonably well, see reasonably well and only smell like a combination of dead mice, sweat and Lysol. These masks came out around 15 years ago and are, by now, standard fare at most games which means it's about damn time to find something else. And that something else is a New England based LARP supply company called Monster Camp. Their masks are nicely detailed, well painted, generously strapped, comfortable to wear and extremely durable.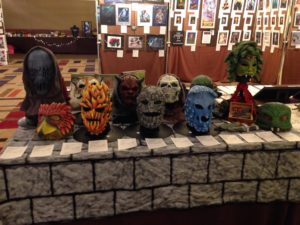 Who are these guys?
Monster Camp is run by Josh Slowick and Maurice Spaulding, two guys who go back so far in LARPing I remember them from the earliest days of Madrigal 1 (yes, yes I know in the hoary lore of LARPing you're really no one unless you remember wearing trash bag tunics and dying because you lost your "life tag" in a rain squall). Sometime around 2003 Josh and Maurice invested in some basic Latex Mask making equipment (remember, this was way back before everyone was turning out plasti-dip works of art in basements…ok, their parent's basements) and started working on basic mask and shield molds, including an Orc design that is soon to be customized for NERO. After spending a great deal of time perfecting their craft at the game they ran called Requiem (totally different than Realm of Requiem – the only thing perfected there was a culture of mean-spirited douchery which colored a sub-set of newer participants and still pervades certain games to this day) they opened their online shop for business in 2013(ish) and have expanded from there, appearing at local conventions and shows as well as having their work heavily featured at LARPs like Arcane.
Why buy from Monster Camp?
Having run a game and with years of experience under their belts Josh and Maurice *know* how Monster Camps work, as their business name suggests. From attempting to cram your overly large head into a "normal" sized mask (#NogginProblems) to eye holes the size of pin-pricks, to rat and goblin masks that seem to have a sweat reservoir built into the nose or chin (don't look up!) they've seen, dealt with, figured out and designed their way around all of them.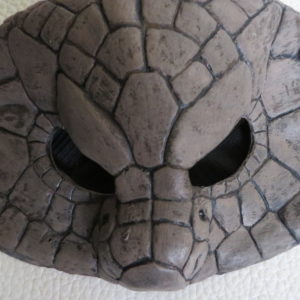 Monster Camp masks are amply sized and strapped, with a thick, adjustable web belt-like locking mechanism keeping them in place. The straps are attached to the masks with generous amounts of adhesive, meaning you won't easily tear through them. Their masks breathe well and offer good vision, both peripherally and downward. Finally, they look awesome. Several layers of built up, dry-brushed detailing create visually stunning creature faces.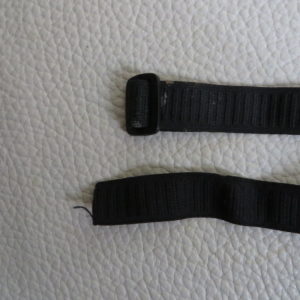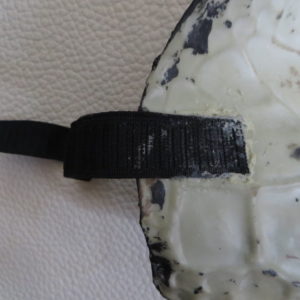 Most importantly, since you're buying locally, it's easy to get in touch with the actual designer, manufacturer and artist. Customized paint schemes are handled effortlessly and their response time is next day or better.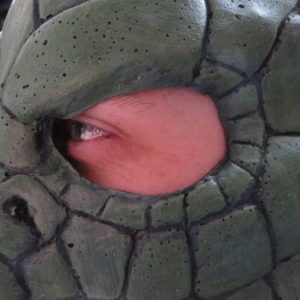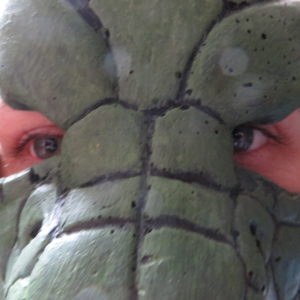 Which of their creations are for you?
I have a color assortment full of their snake masks, 4 to 6 of which easily outfit an NPC group and, with color swaps, allow you to designate leaders or more role-play oriented roles. Their price point per mask, considering the durability and comfort, means that fielding a set of their monsters for several years at an event is a no brainer. Are they the $12 half-masks from Target? Nope, but you'll still have your Monster Camp masks 8 years from now and they'll look as good as you did on the first day you bought them.
Recently, Monster Camp has begun experimenting (like freaking everyone else, it seems) with Latex (not plasti-dip) weapons using carbon fiber cores and Evazote foam. While my bias is generally against these types of weapons I can say that theirs are the softest I've seen (and I've got a pretty good collection of Calmacil 'friendship breakers' and the like). In fact, I would go so far as to say that they should be tested as thrust-legal – which is saying a lot for latex weapons.
Note: As described above, all of these products use Latex. For the .3% of LARPers with an actual Latex allergy you should probably avoid these masks – although the weapons are coated with enough sealer (and presumably you're wearing enough clothing) to make an allergic contact reaction ostensibly impossible. For the 99.7% of you who are either concerned for the .3% or are simply exaggerating for attention – get the frunk over yourselves.
Hack It!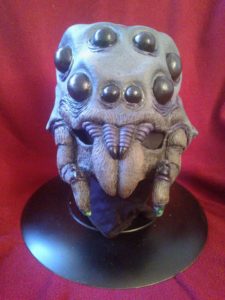 As always, masks are only as good as the three layered costume that accompanies them (universal rule number, uh, 3 – you need three layers, baubles, or callouts to make NPCs memorable). Crappy ½ masks encourage color-coded tabard monsters. Really sweet Monster Camp masks make the wearers want to put a little more effort in, enhancing the overall feel of even generic monsters or encounters.
I would advise wearing black eye make-up as a base – simply because these are designed to be fought in and feature large eye holes. As always, a face veil or balaclava can really cause the viewer to concentrate on the mask and creature type represented.
Finally, some amount of care should be taken in cleaning and storage. These masks can take a beating – but why subject them to it if you have 2 minutes not to Lysol the heck out of them, bunch them up, and toss them, still wet, into a tote.