Camp Hack – YMCA Camp Woodstock
A LARP Camp Site Review
Overview
Camp Woodstock, located in Woodstock, Connecticut (42 Camp Road, Woodstock Valley, CT to be precise – http://www.campwoodstock.org/) has been hosting LARP events for around 8 years. The site can hold vast amounts of attendees, 300 or more, and has a fully staffed dining facility and several decent module buildings. Three things really make Camp Woodstock shine; 1) it is one of the few weatherized sites allowing for winter events 2) the camp constantly improves all their buildings, tearing down to the studs and entirely refinishing a cabin a year 3) the staff is amazing – some of the best people you'll ever meet.
There are two primary rental areas. One contains two large cabin sets, a boathouse (monster camp) and a large meeting hall (module building). The other is a giant building called Roskin Hall. Roskin is, often, rented by another group at the site, but is isolated enough for that not to be a problem.
Both areas have access to a massive common dining hall and two additional module buildings, a 3 story dilapidated barn and a newly constructed resource center with one massive room and a number of off-limits offices and conference rooms.
Games usually rent out the Cabin-set side, taking meals in the dining hall and running events in the additional module space. Occasionally, for winter months or special events, games rent out the entire site, adding Roskin to an already sprawling lay out.
Cabins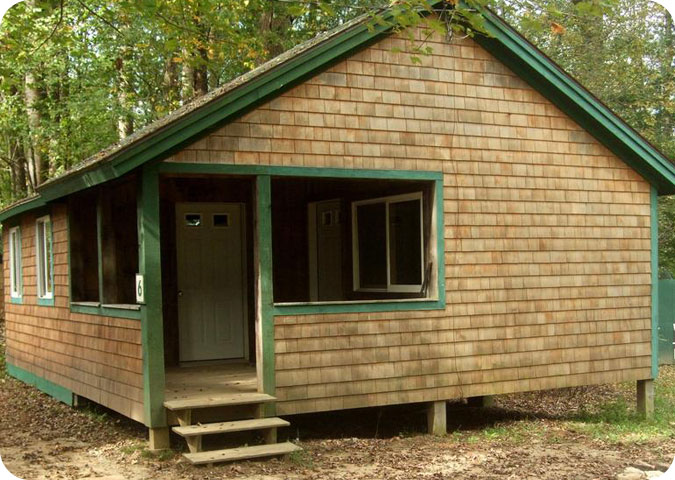 As noted above, the cabins are under constant refurbishment, making the site appear almost brand new. All feature multiple smaller interior rooms and wooden bunk beds built in to the structure. Most now have exterior porches large enough to seat a dozen people. While sizes do vary slightly, most cabins sleep 10+ people easily. The interior (open) door frames allow tapestries to be hung to segregate off areas and create more private spaces. All buildings have multiple, three-prong outlets and can support electric blankets, hot water pots, and coffee makers. All exterior screens are in-tact.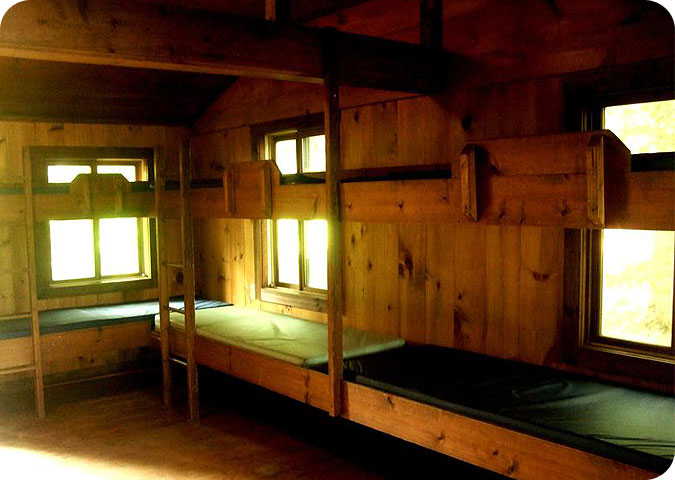 Several of the cabins are much smaller, a single room affair with a bunk or two, and are perfect for temples, guild halls, and other more intimate role-playing encounter locations. All the cabins can easily be rigged for rogue modules.
There are a few small caveats. Some of the cabins have a small set of stairs in front of them used to gain entry; these can easily become slippery. While stout and well made, only 2 of the cabins actually have heat. If you had a decent sleeping bag you could stay in the unheated ones in any weather (and numerous players have). Out of Game lighting is present with both overhead and exterior bulbs (which can easily be switched off and are low enough to be replaced with a colored bulb as needed).
Roskin Hall isn't a "cabin," per se, but I am uncertain where to put it, so it goes here. Roskin sleeps about 60 people in two winged-out common bunk rooms and several smaller, private rooms. It contains 2 bathrooms and a very small kitchen area with sinks and microwaves. It also has two meeting areas right next to the bunk rooms and a central room accessible from both sides by an exterior porch.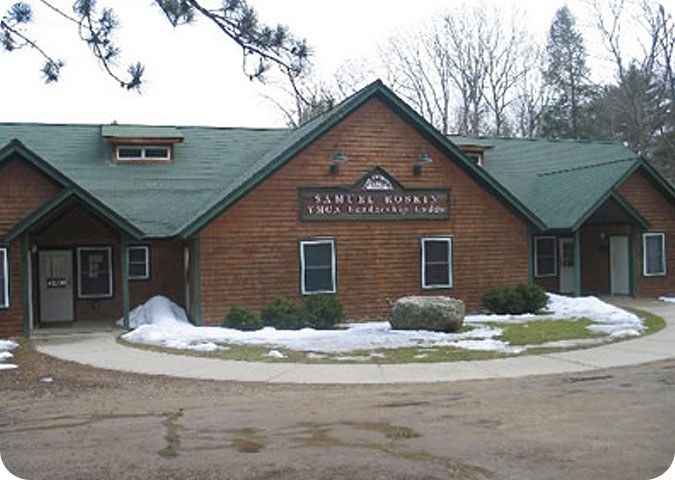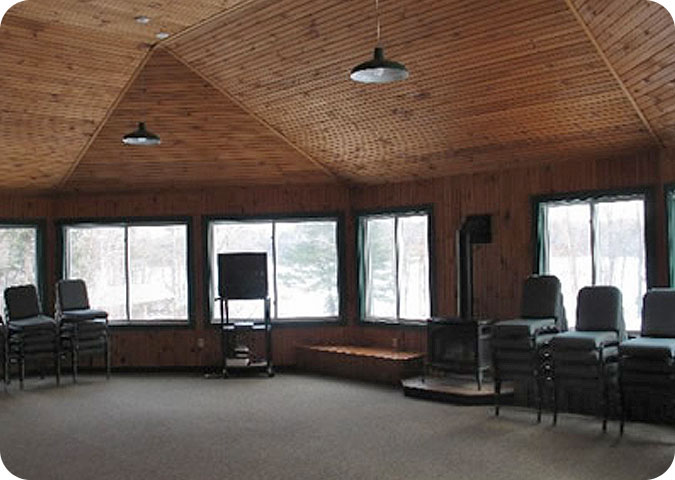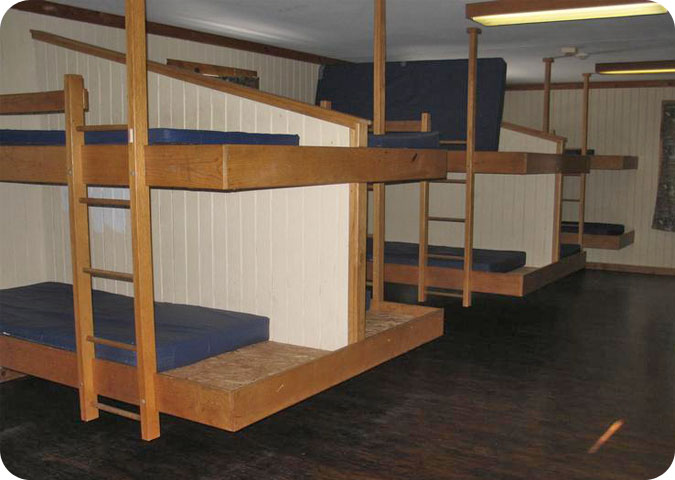 Flanking Roskin are several more cabins, some winterized, some not, and a set of newly constructed Yurts. Being so brandy new and clean the Yurts, even though they are 4 season and contain heaters, have thusly only been used for module spaces and access to them is not shoveled out by the camp during the winter months.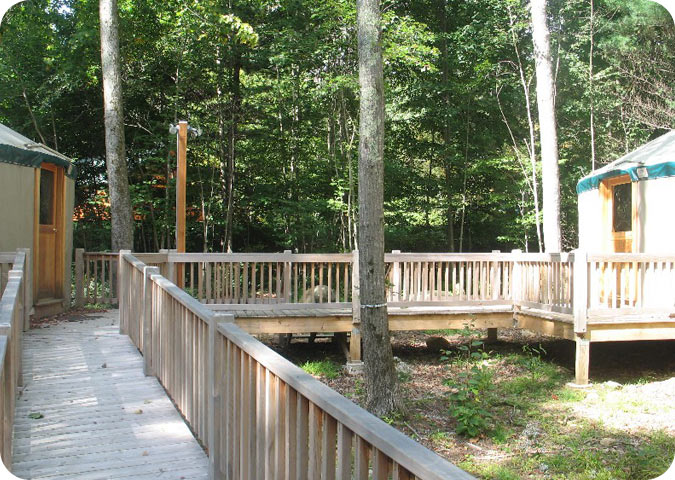 Roskin has the disadvantage of looking very out of game, with carpeting everywhere and inspirational posters on the walls. You need a LOT of tapestries, fabric and lighting to transform Roskin to an In Game setting.
Bathrooms
(Note: When I say "double bathrooms" I mean to indicate there is a men's and women's side with multiple stalls). The boathouse has its own set of double bathrooms. Each of the cabin sets also has a double set of bathrooms in gorgeous, independent bath houses, although one of these tends to be closed during the colder months. Roskin has a double set of bathrooms as well and a new double-bath house has just been constructed just outside of Roskin to serve the Yurts. The conference center has double bathrooms as well which serving the outlying module area. Bath rooms a-plenty!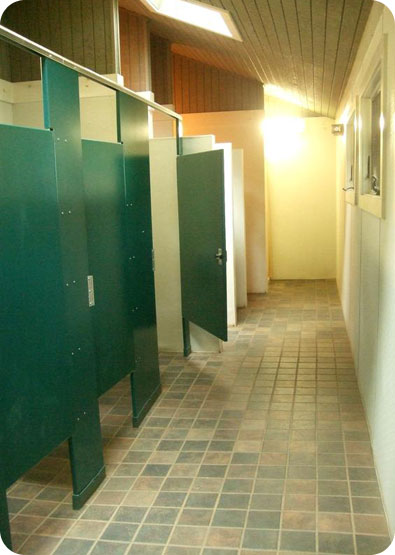 The bathrooms are well maintained and cleaned constantly by the staff. Perhaps some of the cleanest I have ever seen at a LARP site, ever.
Monster Camp
Monster Camp is traditionally placed in the boathouse. The Lodge sleeps 40+ in two winged-out bunk rooms and has 2 private rooms as well. There is a large main hall that sits about 20 on couches and chairs with room for up to 60+ people to stand or prepare for encounters. An exterior porch, facing the lake and away from the game, wraps around 3 sides of the building.
Pop's lodge is heated, with a double-set of bathrooms, and a full kitchen including stove and dump sink. It even had a fire place!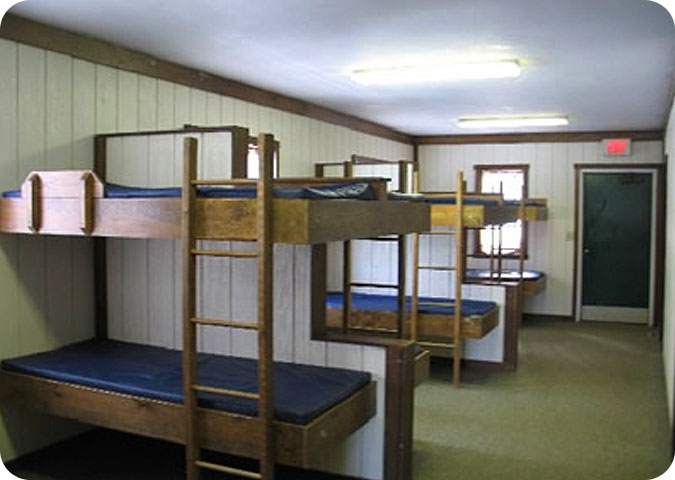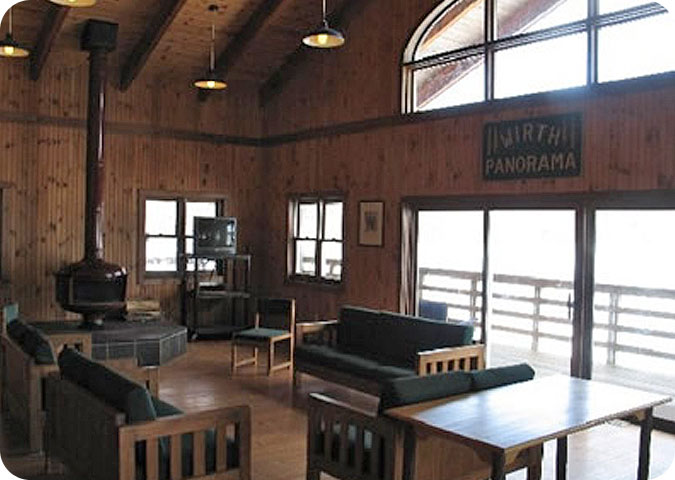 As with everything else at Woodstock, the building is well maintained and the screens are in excellent condition. Multiple windows and sliding doors provide for a cool breeze coming off the pond in the warmer months. The Boat House is, of course, wildly out of game.
Module Buildings
While any of the cabins make great spaces for small role-playing encounters there are three primary module buildings.
On the Boathouse side of the camp there is a giant hall complete with 2 fireplaces and a small stage. Once spring comes this building will also feature a porch running around 2 sides of the building (unfortunately both sides look directly at Monster Camp). The interior lighting is good, the camp threw up some Christmas Lights years ago and they remain in place. If a darker feel is needed then copious amount of windows and doors must be covered with Tarp. While the building is heated that heat is supplied by two massive box heating units hung high in the rafters. While ostensibly controlled by aging thermostats beneath them they both have a disquieting habit of randomly turning on and drowning out anyone not speaking either close at hand or in less than a shout. This hall also has several inaccessible back rooms and one that is open and can be used as storage, complete with a number of chairs and folding tables. It is impossible to access the rafters to hang tarp and it is therefore difficult to break up the space for encounters. This building is usually used as the Tavern.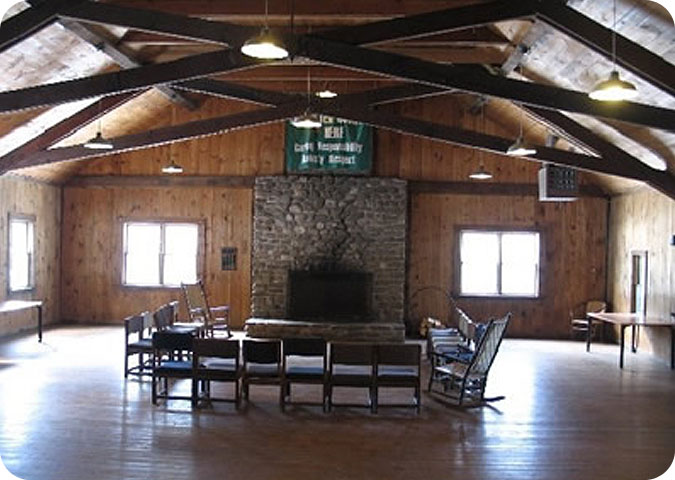 On the far side of them camp there are 2 buildings; a run-down 3 level storage barn and a new activity center.
The barn is thematically neat. The basement level, with multiple heavy picnic tables, gaudily decorated walls and a concrete floor is a great space that needs some serious tarping to bring totally in game. Luckily, the space is also dark, with only a few windows (and an exit sign) needing to be covered in order to immerse it in total darkness. Because of this, a lot of the technicolored wall art can be easily ignored. The Tables can be linked together to form a crawling tunnel for the adventurous. The only thing lacking down here are convenient outlets, although there is one on a center pole and more along a wall. A low ceiling and beams provides easy access for hanging lights or tarps. There is even a decrepit darkroom in the back corner crammed full of old camp junk and mice…it is impossible to run anything in there, but it can make a good hiding place.
The second and third stories of the barn share a common peaked roof and it looks like, well, a barn. The camp uses it as storage, so one whole wall must absolutely be tarped. Luckily there are easily accessible low beams from the 3rd level for hanging purposes. The second story has a small stage and exactly 2 outlets. Luckily, the third story, accessible by a stairway from the ground floor and an additional one from the 2nd, has several outlets and a safety railing. Games usually run rope lights or hang lanterns from the railing and it thematically illuminates the entire space. The 3rd story is somewhat more narrow, but still fightable. The only challenge with this space, beyond it looking like a barn, is that it has several high, impossible to cover windows. It will never be truly dark unless it is night. That said, the benefit of this space is that you can fog machine the HECK out of it! In fact, a fog machine in the basement will send tendrils of smoke up through the holes in the 2nd story…a really great effect!
The recently constructed activity center comprises the other module building. It is a cube like structure about 50' x 50' with high ceilings and is well heated. Unfortunately it is impossible to hang tarp and other remedies must be sought out in order to break up the available space. One side of the cube is comprised entirely of sets of glass paneled doors which lead to a covered concrete patio and then out on to the shard field that separates it from the barn. There are other, off limits, rooms in the activity center as well, including a small kitchen and a set of double rest rooms.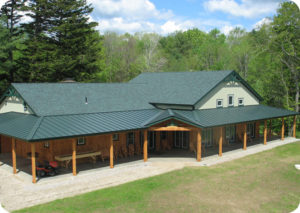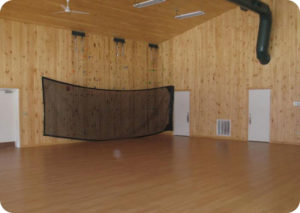 Outdoor Encounter Areas
Camp Woodstock has a mixed set of outdoor encounter areas. Unfortunately there is a significant distance from the Cabin Set to any real woods of substance; this fantastic site's one weakness.
Paths
Numerous paths wind around all the cabins but have become so ill-defined through use that they are just one open area surrounding both sets. A lower trail runs along the water's edge and around the entire pond, but except for an area just outside of the boat lodge it is too narrow and rock strewn for much combat or more than single-file travel. However, just down the hill from the main module building/tavern and to the side of the boathouse is an expansive meeting area with a stage and fire pit. A stout cabin rests just to the side of this area – most game designate this entire space out of game as it is sufficiently removed and secluded by the hill for separate modules.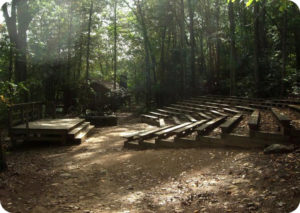 An upper trail runs from the right-most cabin set across a small bridge (recently and beautifully refurbished with solar nightlights) and down toward the Dining Hall. This trail is lit at night by overhead path lights and is wide enough to allow for small fighting and role-playing encounters. The main path splits halfway up at a sizeable woodsy fork with the leftmost side paralleling the public road before curving to meet the road to Roskin Lodge and the Dining Hall while the right fork leads through a small woods set to an outdoor "chapel" area and then on to the other side of the field at Roskin lodge. The upper path is almost entirely out of game at this point, dominated by the closeness to the road and the modern-looking dining hall. The lower path to Roskin, however, is wide enough for a small combat encounter. The chapel area, with numerous roughhewn benches and a lectern is a fine spot for role-playing.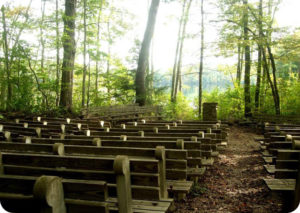 Two other paths lead from the Dining Hall up to the module buildings; one comes out right in front of the barn (and parking lot) while the other crosses a 100 foot long single-file bridge over a bit of swamp before emerging onto a small low ropes course and, eventually, the field above the barn. While suited for role-play, the swamp, narrow trail, and ropes course apparatus make this a difficult area to fight in at best.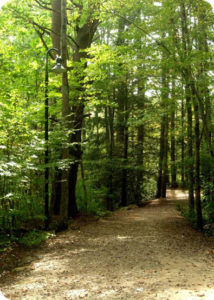 A final path leads from behind the Activity Center up to the Soccer field. One has to walk through the parking lot to find it, but once there it dips and rises quickly out of site moving things to an in-game footing. Along this path is one of the famous "packet trees" where industrious squirrels have stuck thousands of packets up in branches during the summer months for safekeeping. It is quite a sight!
Fields
There is a main field that connects both of the Cabin Sets. Unfortunately the camp has been re-seeding it for the past 5 years and it is often unavailable.
In front (or behind, depending on how you look at it) of Roskin Hall is a second large field bordered by the pond, Roskin Hall, and a small archery range outpost. If no other groups have rented Roskin for the weekend this field is available for use and offers numerous recycle points and space enough to fit 150 participants with ease.
Finally, up a very short path behind the Activity Center is a large soccer field. While quite a walk away from player housing, this field is excellent and massive, with several mini-trails going nowhere into a tree line (before terminating in out of game camp road) that allows NPCs to be concealed with ease. Only the lengthy walk prevents this field from being used more often. It can fit hundreds of participants and, in a pinch, power can be run from outdoor outlets situated around the Activity Center – you will need about 300' of extension cord at least.
Woods
The one failing of this campsite is the woods. Moving away from the lower cabin set, one encounters perhaps 70 feet of difficult woods bordered by a slight hill and a small path that runs along the lake. This path terminates in a public access road that leads to the Blackwater Pond boat dock. Locals tend to fish the heck out of this state-stocked pond all year long, so even in the dead of winter or the early summer mornings there are several slack-jawed yokels wrangling a 15HP tub into or out of the water, drinking cheap beers, and involved in loud custody-exchange arguments. When not occupied by white trash or being used as a make-out spot this road and cleared boat launch make for an acceptable module space.
Past this area there is a vast expanse of "public" land full of wild tangle and demarcated by old stone farmer's walls. This general encounter area is the size of 8 football fields and gorgeous…if you can get there. The area is clear, with high pine trees and incredible in terms of woods. It is also occasionally populated by nests of ground hornets in the summer, so care needs to be taken not to disturb them during the warmer weather events.
Eventually, this space declines into a swampy area and then rises again, past a fordable but treacherous stream into a gorgeous highlands type area with native rock outcroppings that top off at a high hill. Beyond this space is an odd private house. However, at this point, you are a good 15 minute walk away from the site and, if you wish to drag players this far, it is truly into the wilds.
On the near side of the camp, just beyond monster camp and the closest camp set, there is an area that descends via an old path close by the water. Down in this depression it is possible to stage 15 person encounters or to set up impressive role-playing backdrops (as it is so close to monster camp).
Finally, beyond the newly constructed bath house past Roskin hall, there is a seldom used high ropes course set with giant wooden pillars stretching 50 feet in the air. Around this area are 3 fightable clearings and a few smaller paths. Much like the far woods noted above, at this point you are truly beyond the pale and far beyond the camp at large. Unfortunately, the brush in this area is rife with poison ivy. Gaithers or full body garb is a must.
Across the public dirt road that serves the camp ("Camp Road," because, of course) are several more areas of nicely serviceable woods. Close-by, with generally clear, pine-forest type terrain, about 30 PCs can quite easily be separated into each of these areas and, when combined, an entire game's worth of participants can travel a goodly ways worth of encounters.
Food
The main dining hall, ludicrously out of game, provides a Breakfast, Dinner and Breakfast for a reasonable price. Unfortunately, the quality of food varies. It seems to depend on who rented the camp during the week and what they have for left overs. Some mornings you can have eggs, bacon and waffles. Other times, you get a yogurt cup and oatmeal full of good intentions.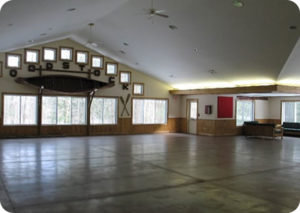 Dinner seems to run the same gamut. Eschewing the usual easily cooked pasta and potatoes menu, the staff, or their current dates or the current crop of Slovokian counselors in training (who are all very nice, to be fair) whip up either great trays of lasagna and pasta Alfredo OR disappointing broccoli and chicken so dry you could use it as a club in combat. Often times the Sunday breakfast is whatever you didn't eat the previous night, made into a casserole. However, they always have a salad option and the staff's intentions are nothing but good. Sadly, good intentions taste like thrice-baked ham and mystery loaf. Your mileage may vary, but at least you don't have to do the dishes. Also, they have juice and coffee…very, very good coffee. And, as noted, the staff is so awesome – likely the best staff you will ever encounter.
Parking
Parking can be…tricky. Before game, all the cabins and module spaces are easily accessible so extensive set-up is a breeze. Once game is on cars are banished to a lot between the two upper modules buildings and on the side of Camp Road, a public access, unpaved dirt path barely wide enough for 2 cars to pass each other. Care must be taken to park carefully along the side of this road to allow any emergency vehicles by. Smaller cars and non-AWD vehicles have gotten stuck before and slipped into the ditch. Rain makes things even more treacherous. In very inclement weather, there is a public parking lot towards the head of the road which isn't the worst option available. During winter events, the camp does its best to clear all the interior roads but you'll be parking close by encounter areas and module sites.
Local Businesses
Sadly, Camp Woodstock isn't near a whole lot. There is a Dunkin Donuts and a gas station south of camp road by about 20 minutes. In the other direction is Route 20, with a plethora of all night establishments and Zorbas (http://www.zorbaspizzeriatavern.com/), where people tend to congregate before and after game (please, please take your make-up off before showing up…just. Please.). There is also a Wal-Mart and the requisite chain-eatery trash that clusters around Wal-Mart, but Zorbas is the place to dine at, hands down. For LARP supply, the Wal-Mart up on 20 and a Home Depot further on (about 30 minutes away) is your best bet…but that's a far haul on a Friday night when you need zip ties, tarp or rope lights in a pinch. Better to come prepared than forage without.
Hack It!
Not many to speak of, actually. The camp is so well maintained that everything is above the board perfect. As noted above, the central field has been re-seeded for 5 years running and has therefore been unavailable. Oh! And there have been two instances of harassment by 1 truck full of two degenerate locals. However, since the Camp staff literally chased them off in a Chevy Suburban that could have been straight out of Fury Road the issue seems to have come to a close.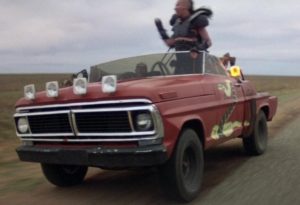 The camp staff runs off local hoodlums. Allegedly.
Cell service is extremely spotty. The best provider for this site seems to be AT&T and the best location for service is on the back right corner of the deck of the boat house with your arm up in the air, pointed towards Cassiopeia. There is a Wi-Fi network in Roskin although no one has been given the password (probably because no one has asked).
I would suggest bringing a set of tacks and sheets/tapestries to seclude one's bunk. Because of the upgraded electrical fans might also be of interest during warmer games.
The water at the site can run from a little sulfur-y to almost undrinkable. Depending on how sensitive you are to gagging while brushing your teeth you may wish to bring up to 3 gallons of water.
Cost
$$$$ Camp Woodstock is one of the most expensive camps to rent. If you combine the main site with Roskin Hall it *might* be THE most expensive camp (Clara Barton is actually THE most expensive site but if you rent the entire thing a historically accurate costumed interpreter shows up serve you breakfast/bum cigarettes as all historical interpreters are wont to do). It is so worth it.
Directional Deviances
None. All GPS and Map-related websites are spot on.