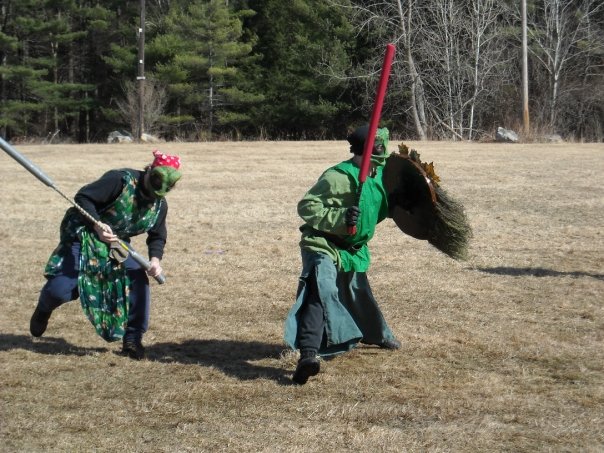 A comprehensive list of New England Sport LARPs
If you want your LARP added here Contact Us!
These LARPs are recommended for experienced & new players alike
But, really there are just so many great LARPing experiences in New England! Pick one that looks good, and if it's not your cup of whiskey, then try another!

Check out the 2020 LARP Calendar for even more information.
.
Genres of Sport LARPs
FANTASY: Elves, barbarians, warriors, healers, and everything in-between
MASHUP: Some fantasy elements with modern, historic or post-apocalyptic
MODERNish: New England Gothic to the 80's to Lovecraftian horror
POST-APOCALYPTIC: You are the survivors of fantasy horror, full of zombies and usually aliens
STEAMPUNK, AETHERPUNK, DECOPUNK: Gears & nerf guns, high tea and petticoats, and goggles abound
WILD WEST: Yeeee-haw and all that implies
.
List of Larps by State
I've included all Northeast LARPS in the Tri-state area (plus Maine cause they are awesome).
Connecticut LARPs: Dystopia Rising/Utopia Descending, Fantasy Quest, Madrigal 3, Myth, Mythical Journeys, Kaurath, Realms, Secrets of Caldera, Invictus 2, Coventry.
Massachusetts LARPs: Aralis 3, Attaway, Clockwork Seas, Draconis, Empire in Flames, Evensong, LIONE, Fables of Fenorra, Future Imperfect, Ink Larp, Keystone, Knight Blades, Legends: Legacy, "Nero" Ravenholt, NERO World Ravenhold, Nexus Elements, Realms, Shadowvale, Sins of a Nation, Tales of Valor, Tales from the Cotting House, Terres Rising, Witchwood, Port Katherine, Thaumatrope, After Dark.
Maine LARPs: MASI, Mystwood, Parallax
New Hampshire LARPs: Alliance, Crossover
.

Fantasy Larps
Alliance – A dark fantasy survival horror game. Among us now the dead walk unchallenged, the wicked sit upon the thrones of kings, and the land has all but perished. Many have taken to the sea, but we know there is little chance of finding the outer lands. We have yet to play this game.
Aralis 3 – A dark fantasy larp with varied races, religions, and schools of magic. Set with political intrigue this pvp friendly game is not for Heroes and is invite only.
Draconis– Team oriented adventures, mods and larping with a group focus. You will be part of a 6 person group all weekend. Families, teams and other groups are encouraged to attend. Draconis is a heroic fantasy medieval live action adventure group whose intent is to bring the Dungeons and Dragons world to life.
Evensong – the Champions of the Evensong Expedition unite to defend the new enclave near the runes of Evensong Keep from the Nightmare Lord. A high fantasy game welcoming to players who like roleplay, combat and fun adventure. Unique mapping adventure skills IG. Lighthearted & very welcoming. We pc this game and love it.
Fables of Fenorra – Alas this age of peace and prosperity was not meant to last. For when shadows rise and engulf Fenorra, terror and panic rise with it. Like puppets on a string the people of Fenorra, repressed and hopeless, fall victim once again. But that is another Fable… We have yet to play this game.
Fantasy Quest – A living theater style game with a fantasy setting. We have yet to play, but it has a following.
Knight Blades – The Kingdom of Baronia is filled with elves, humans and creatures of all kinds, from evil to goodly. You the courageous, valiant, daring, and adventurous are truly the ones who shall write the legends that the generations will tell from here on out. We have pc'd this game.
Legends: Legacy – An interesting combination of races settling a new wild lands. What will be the outcome and how will you find balance to the world? We have yet to play this game
Madrigal 3 – Welcome to Shadowfane! Home to the bravest of adventures from elves to humans this game is rebooting this fall. Running since 1998 it has one of the best reputations for indepth fun & combat/rp of any game. Currently the largest larp with 150 players. We will be pc'ing this game.
Magestry – Possesses many of the elements from classic fantasy literature (elves, goblins, magic, etc.), but there are also many elements unique to the Dabbleverse. High costume requirements per races. We have yet to play this game, thou it has a following.
MASI: Mystwood – It is a time when danger lurks in the mists, when things long buried emerge from the depths of the forest, when ordinary folk may win fame and fortune with sword and spell, or perish unremarked. In short, it is as it has always been in the Mystwood. Recommended for new & experienced larpers.
MASI: Parallax – Parallax takes place at Garrison Black in the warring country of Daulurrak. The country is currently at war with it's neighboring country to the North, Donalec. Not everyone supports this war, including the Prince who was labelled a traitor by his father, the King.
Myth – A spin off of MJ, looks to be more of a fantasy rp game? More details to come as the events start in 2018.
Mythical Journeys – Woods with roaming monsters and a tavern. You can buy mods with xp points. A fantasy game run by the CT Ren Fair. We have played this game.
Kaurath… a land of rich history and bloody battles, where Bards and Kings walk alongside Peasants, where Elementals hold no sway but one should always carry a bit of bread or honey for the Fae.
Nero: Ravenholt A tumultuous oasis in a magical land. As you near the capitol of the Duchy, you breathe a sigh of relief – the journey has been an arduous one through the wilds, as the farther away from the safe streets of Evendarr you have traveled, more wild and treacherous the terrain has become. We pc & npc this game. A recommended Nero campaign for new & old players alike.
Nexus Elements – On the Isles of the Forgotten King, long ago a stranger untied the lands only to make the gods jealous. They conspired against him and struck his name from memory. Wars followed. Now we live in a tenuous peace in the Age of Heroes.
Realms – The Realms is a world far different from our own. It isn't based on our world's history, and only loosely based on our own geography. Within the Realms such things can be found as terrifying monsters, magical powers, armored knights and pious monks. The closest game to larping SCA style. Many events year round from weekend long to one day feasts & tournaments.
Secrets of Caldera – a world filled with ancient mysteries waiting to be uncovered and savage creatures that stalk the unwary. Your only limits are your own ambitions and ability. Will you risk life and limb searching for artifacts from ages past?
Shadwovale -The vast, ancient forest known as Shadowvale has long been the subject of rumor and legend. Few who enter it return and those 'fortunate' enough to do so are forever marked by their time in the forest. High fantasy setting with plenty of combat and adventure. We pc this game and highly recommend it.
Tales of Valor – The terrible prophecies spread by the Sidhe are mere footnotes in the historical tales…of horrifying encounters with trolls, goblane, and even more unimaginable monsters that filter their way into the great cities of Jhoril, adventurers continue to flock to the Colony every year. Dave played this game Many years ago & thou we haven't played it recently, we have heard good things.
Tales from a Cotting House – a "dark fairytale" larp in the world of Mother Goose, but also of the Brothers Grimm, with Mary Shelley and a hint of Bram Stoker to keep you on your toes. Here things go bump in the night. A continuation of the Cottington Woods larp.
Terres Rising – set in a medieval-style fantasy world known as Ashriya. The time of Terres Rising is when we gather to witness the events that occur in the town of Crossroads. A realm filled with many different races and fantastical creatures. From merchant caravans to the independent settlements, there are many places to choose from. We pc this game – very welcoming players!
Witchwood – Those who dwell here are wracked by unending nightmares. Come to the woods and seek a cure for this curse. There are dangers, certainly, but when will such an opportunity come again to see the wonders of the Witchwood? We haven't yet played this game.
.

.

Mash-up Larps

Crossover – The fantasy world of Ariath is a bit more morally polarized than our Earth is. Active gods perform miracles and hold the world together, dark and light spirits influence its inhabitants, and the morally bankrupt might find that their wickedness takes a true toll on their spirits. Looks to be Very Fun!

Empire in Flames – Set in a world of medieval high fantasy with early steampunk technology. Full of daring heroes, evil villains, monsters, and magic. The world is at a tipping point in it's long history, the Gnomes and Goblins have pioneered new concepts they call "SCIENCE!" and "Engineering" respectively.

Lione: The Second Crusade – Five years ago, the modern age ended, and magic has returned to the world. As technology failed and science gave way to mysticism, civilization was on the brink of collapse. The Gods, once thought to be nothing but stories, have begun to speak once again. We have npc'd this game – fun!

Sins of a Nation – a full metal fantasy larp set across a series of expeditions into the ruins of a once-great kingdom known as Galdria, which was consumed by blight over 600 years ago. A combination of nerf, alchemy, fantasy and adventure. We've pc'd this game.

Modern-ish Larps
After Dark – New England Gothic Larp Take a left turn at the fork, and drive straight until Ruby's. Settle into new understandings of deviance and the mundane. Look out for critters- they get into the trash, and have a tendency to drag the skeletons out of closets. A Modern Adventure Horror Game
Ink Larp – Here's what everyone's been talking about: In the summer of 1983, the people of New Albion, Massachusetts experienced an incident of "mass hysteria". American Centurions gathers amateur athletes and adventurous sorts of various disciplines, many of them former military, and takes them to their limits in tests of strength, agility, and combat focus

Post-Apocalyptic Larps
Dystopia Rising – takes place in a post apocalyptic world, long after the fall of civilization to a worldwide zombie plague. This world, many generations after the Fall, takes place in a new dark age where the remains of lost cultures linger in a world without direction. Many games located in many states. We haven't yet played this game.
Future Imperfect – You make your way toward the drop spot just outside Residential Zone 2, your four companions close behind you. The woods here are deceptively serene – no sign of civilization in any direction… you remember that the Central Zone once looked like this, before the trees were hacked down…" We haven't yet played this game..
Utopia Descending – A continuation of Dystopia Rising, in a Shadowrunesque setting. Just starting this year.
.

Steampunk, Aetherpunk & Decopunk Larps
Attaway– a Decopunk larp in 3 parts. Explore Attaway and the Brightborough area as a member of one of 5 "families" at the distillery. A ragtag set of families at Attaway is a distillery produce BREW: a high-octane 'chempunk' elixir capable of near- magic.
Clockwork Seas – The follow up to Clockwork Skies a mash up of Steampunk & sorcery. Still in the works… more to come soon with official game release.
Port Katherine – Aetherpunk larp. It has daring combat, devious politics, dreadful magic, dangerous monsters, and just about anything our players and staff can dream up. It is set in the fictional world of the Pan-Aetherium.

Wild West Larps
Keystone – set in the remains of the Dakota Territory in 1885 journeying into a fractured weird west on the edge of an unsettled and advancing frontier. Come adventure in the Shattered West.