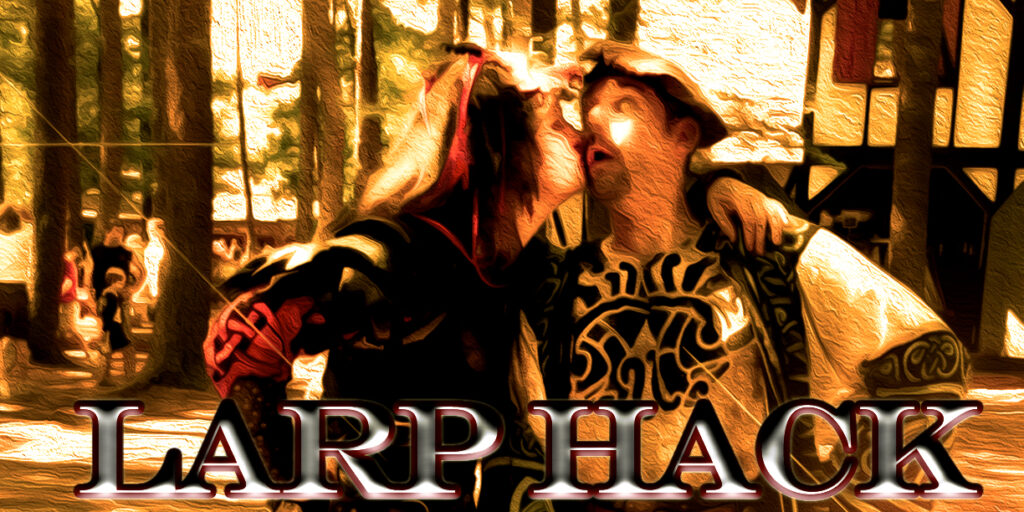 I hope to ensure innovation isn't stifled.
What Is Larp Hack?
I love LARP! I have been gaming since I was about 6, starting in the golden day of table tops and lead miniatures. Experienced in strategy games, writing, adventure campaigns, I've been LARPing for over 16 years – and more importantly have game experience in almost 40 LARP game systems over hundreds of events.
The Purpose of the LARP Adventure Blog
Over the years I have been involved in a number of hobbies, from paintball to poetry, and none of them has captured my imagination and brought a healthy balance to my life like LARP.  The primary adventure this blog will undertake is to create a space where many of the "arguments" which were concluded long ago (for instance, stop sending out NPCs to fight with goddamn short claws) can be briefly rehashed and linked back to whenever a troll needs to be fed. I also want to create a mentoring space – I plan on sharing what I have done, why it did or didn't work, and why it should or should ever/never be done again.
I hope to ensure innovation isn't stifled. We have come up with a number of schemes to help us make it through weekends intact and to some extent that has begun to produce efficient formulaic events. I also want to share some insights about the New England LARP community and the resources available to us.
No matter what games you attend, every game does something better than every other game out there. Sometimes it's just a matter of matching the player with the system, instead of becoming frustrated trying to fix perceived shortcomings.
And somewhere in the midst of all this I even plan to have a little fun!
My Larp List
I have played and/or NPC'd and/or staffed the following LARPs (at least once and in no particular order):
Aralis 1 & 2
Arcane<
Atlas Adventures
Atlas Agenda
The Calling
Cottington Woods
Endgame
Epic
Evensong
Fifth Gate
Hope's Crossing
Invictus
Isles
Knight Blades
Legends
LIONE – End of Seasons & Veneration
Lovecraft's Legacies
Madrigal 1-3
MASI – the Exiles Saga and Roanoke
Mirror Mirror
Mythical Journeys
NERO Mass
NERO Hartford
NERO Boston
NERO Atlanta
NERO Pittsburg
Numima
Otherworlds
Prophecy Games 1-3
Radiant Dragon
Realms
Realm of Requiem
Second Dawn
ShadowVale
Sins of a Nation
SOLAR – Everhate
Steam and Cinders
Terres Rising
Twisted Crown
Valiant
Witchwood
LARPHack on the Web
You can also visit us at LARPHack on Facebook or LARPHack on Pinterest.