Vendor Hack
Half Moon – the best

$20

$265+ dollars you'll ever spend

At the point where you've put a few events under your belt, remembered at least 6 other PCs names, and suffered through rain, wind, snow, hail, mud, sleet and the dreaded rainmudsleetwind™ it's time to put in a few extra hours at work and buy "that" coat and/or cloak and/or cowl. You know the one – everyone else at the game seems to have it in either black, grey, green or a dark brown. They are a staple of LARPing in bad weather (forever shorted to just 'LARPing') and are easily the best $240 – $400 you'll ever need to spend once.
Who are these guys?
Half Moon is a wool clothier that runs a pretty tight Renaissance Faire schedule up and down the East Coast. From their own website "Half Moon originated in 1984. Back then we had one style – our tried and true poncho. That style is still one of our best sellers, but we have since introduced an array of items; cloaks, jackets, capes, etc. Over the years our business has grown consistently and we have customers throughout the United States and abroad. Despite this growth we still strive to maintain a very personal approach to our business. We stand behind our workmanship and the utmost attention to detail is given to each garment. Our garments are constructed of thick, durable 85/15 wool/nylon blends (100% wools available) and are sewn with a heavy nylon upholstery thread — made to last! Most of our designs fit loosely to assure freedom of movement and to allow for ample layering beneath."
Owing to their presence at King Richard's Faire in Massachusetts a lot of early proto-LARPers got introduced to Half Moon cloaks in the early 1990s and, due to their durability, are probably wearing the exact some ones today.
Why purchase a Half Moon?
Woolen garments are designed to be LARPed in. Again, quoting from their FAQ (capitalization is theirs) "Wool is water repellent because of its natural lanolin. You can wear our garments in weather that calls for a rain coat or umbrella. Wool is excellent for harsh weather conditions like snow and sleet. WOOL RETAINS ITS WARMTH EVEN WHEN SOAKED. WOOL IS QUIET IN THE WOODS."
What other qualifying statements could you need? How about ease of care? We've all left sweaty costuming in the back of (hopefully someone else's) car for far too long or opened up a tote on Friday night of game to find your shirts are still damp from 2 months ago and smell vaguely of steamed death…Half Moon's garments require the following care "I suggest airing it out on a nice, breezy fall afternoon, and once again in the spring. No further cleaning is required other than any necessary spot washing." Done.
In review, we have a thick, warm, water-repellant outer layer that is naturally quiet, has been designed, cut and sized to be worn over your more distinctive costume pieces, still gives the freedom of movement for copious amounts of goblin killing or zombie fleeing and requires next to no care.
Which Half Moon is for you?
The only way to determine that is to try them all on! A touch more seriously, I have seen Half Moons fit and flatter every size. The three most common are the Tracker Coat, the Double Yoke Cape and the Travelers Cloak. Pro-Tip: generous cloaks can be used to conceal smaller players inside for that extra sneak attack when you really need it!
The most bang for your buck can often be had by pairing a coat and a cowl. Worn together they resemble a full cloak and hood. Separate them and you have two distinctive looks – the roguish long coat and a cowl that pairs well over anything else – especially helpful when NPCing during winter events.
Regardless of which Half Moon you purchase you will have two issues to deal with – firstly, you may never want to take it off! I've spent entire events with an impressive vest/doublet/laced shirt combination that no one has ever seen. People have inadvertently fallen asleep in their cloaks for an hour while waiting for an encounter to begin and missed the first chunk of it. Secondly, Half Moons can go…missing. Make sure your name is freaking embroidered somewhere on the inside – these items, unfortunately, have legs.
The best place to purchase a Half Moon is at a Ren Faire because you can try on all the different styles – note that they sell briskly so the sooner to the start of the Faire you can visit the greater selection you may find. Half Moon also has a website: http://www.hmoon.com/ where you'll find all of the information listed here in tons more detail.
Hack it!
Since these outfits are of superior, lasting quality and designed to be used and abused there are few hacks that need to be applied. Some of the jackets are designed to remain open in the front – clasps can be added to allow them to close just as snuggly as a cloak.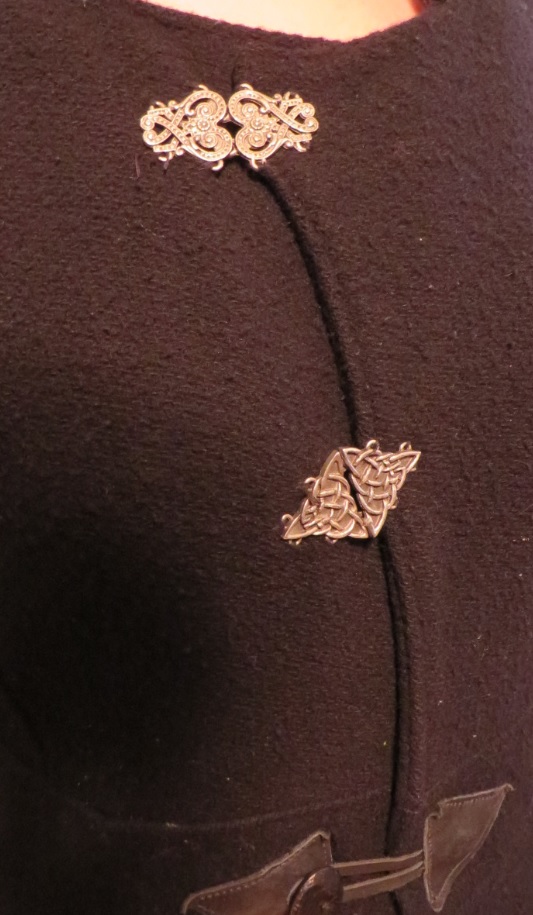 Even better, Half Moon offers a customization service for when you really want to buy a signature piece for your beloved PC (note: the purchase of PC Specific Costuming increased the death of that PC by a factor of 1 for every $40 spent).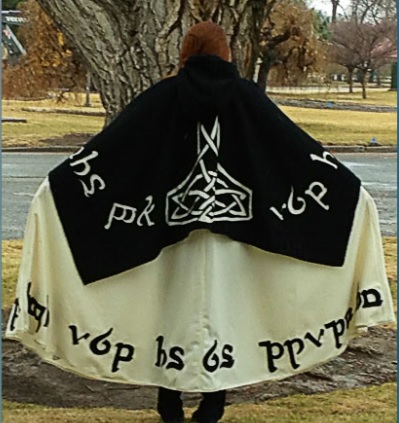 Finally, Half Moons make great bedspreads or extra blankets during particularly frigid events. Draping them over your sleeping bag will prevent any gusts or chills from creeping in at night.