2017 in New England Sport LARPing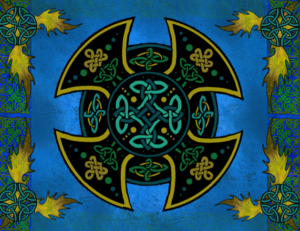 Part 1 – The Future is Now!
Overview
                Good Morning fellow LARPers. For my yearly review/prognostication post I'm going to re-jigger the order of things a bit. Usually we lament those we have lost, welcome those who are coming in to the fold, and ruminate about some of the changes occurring within the New England Sport LARPing community (such as which $4.99 Skeleton Half-Mask is all the rage this year). Instead, I'm going to turn things around a bit and begin by focusing on our burgeoning community (and then make pity comments about the actual game schedule later on). That was the overall theme of 2016 after all, the growing number of people multiplying our ranks and the ever increasing dichotomy of games they were creating around them. But if 2016 has shown us anything about 2017 it's that our community is putting down some solid social anchors, so let's take a look at those.
Camp News and other Physical Endeavors
                2016 was a mixed bag when it came to camp sites but 2017 looks to be a whole lot better!
                In the loss column, Chesterfield Scout Reservation in Chesterfield, Massachusetts has been transferred, at the last minute, into private hands who are no longer interested in renting the site. The long-time home to Magestry and incubator to several smaller games, this loss is a dear one, especially as the rumored originally-planned deal for Magestry to purchase the site had the rug (errr…forest floor?) yanked out from under them.
                In addition, the former Camp Onway in Raymond, New Hampshire; purchased and renamed "Zions Camp" by everyone's loveable Church of Jesus Christ of Later-Day Saints (and raise your hand if you don't think we're in the 'later days' right about now) has decided to cease renting to any groups not directly running Faith-based activities. This takes another large, affordable site off the market.
But fear not! 2017 is actually going to be a *banner* year for Camp sites, the best since Harald brought Ye Old Commons into the fold. As follows:
Eagle Pass: Centrally located in Wales, Ma., Eagle Pass (http://www.eaglepasscamp.com/), owned by David and Hillary Chapin (of Aralis fame), has faced numerous construction delays over the past several years. A decent one-day site with a beautiful main house/tavern built specifically with LARPers in mind; the faucet of construction was turned back on in the fall of 2016 and the site is rushing towards final completion. Roads! Buildings, both small and large…this site, designed by a LARPer for LARPers, has it all. Construction is looking to be completed in time for the Spring season and games such as CRO, Clockwork Skies, and Aralis 3 have already booked dates. You have to check out these pictures – doesn't this look incredible? Dates are still available and, for games looking to expand their schedule, Eagle Pass rents year round.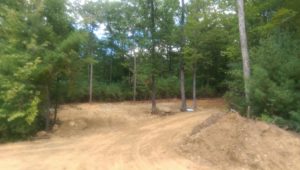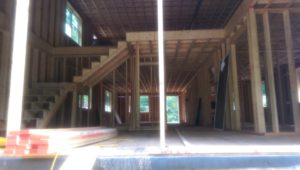 (Some of the work underway this fall at Eagle Pass)
..Chronicles: This is an interesting one. Chronicles, lead by Joseph Blackwood, came out of nowhere, snapped up perhaps the best domain name (http://www.ctlarp.com/) for LARPing in Connecticut, and, in a burst of extraordinary vision and enthusiasm got some land and started banging out a site in Holland, Mass – just south of Sturbridge. Their site GoFundMe can be found here: https://www.gofundme.com/chronicles-season-one along with continuous updates on both their game system and camp news. With a full dozen one-day events on the Calendar already, we can't wait to see how this new site unfolds.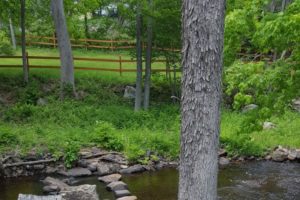 (The Land set aside for Chronicles)
MASI: Up in Maine it's finally time to say goodbye to one of the most iconic of structures – the Main Gate at the stockade in Jefferson. For the past 20 years this bastion has been fought over, in and on. It's been bashed by a battering rams and hit by trebuchet fire. Alas, it is to be no more. However, we're all looking forward to seeing what set-piece Truax and company will raise in its place!
Burgundar: With a raft of games announced for this year, this rustic site continues to add structures and encounter areas. I really, really need to make a trip up there at some point because it looks immersive and fantastic.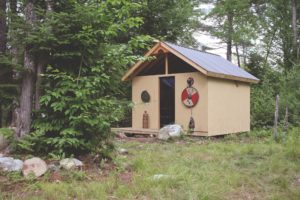 (A Cabin at Burgundar)
Harbinger/Sidereus: Having successfully completed their $50,000 GoFundMe campaign for a LARP site in Beckett, Massachusetts; Harbinger Entertainment (E. Neal Belt III) immediately went out and opened up a gaming store, the Nexus, (https://www.facebook.com/theNexusRI/) in Pawtucket, Rhode Island. While we normally don't cover non-LARPing ventures here, the Nexus has hosted a number of Sidereus meet-and-greets and looks to be the place to go for all things Harbinger related, including their forays into live events and concerts.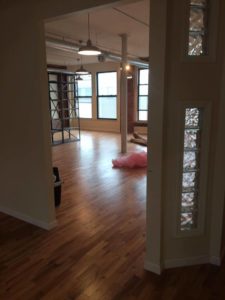 (The Nexus in Pawtucket, RI – check out their gorgeous space!)
B3 Imagination Studios: The place for LARPing (and SCA) equipment, sign crafting, and mentoring, Ben Becker's studio (http://www.b3is.com/) is up and running full time, staffed by the amazing Alyssa Marion and Kat Rigoli. Offering a full range of Sport LARPing equipment, from ultra-light to "battle game (Dag)" swords to packet bows to shields and everything in between, B3 also features custom 3D scanned character figurines! Beyond the merchandise, B3 is also a maker-space, with industrial tools and the know-how on hand to use them – if you have a free weekday I would count B3 as a "destination" in the LARP travel calendar; go out there and see the amazing things they have to offer. Alternatively, catch them vending at NERO events, Madrigal, or SCA weekends throughout the course of the year.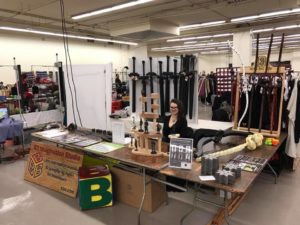 (B3 Vending at Birka)
Made by (Caleb) Hand Leather: By sheer force of persistence, will and craftsmanship, Made by Hand Leather (https://www.etsy.com/shop/MadebyHandLeather), owned and operated by Caleb Hand, has carved (lol) its way into the New England Sport LARPing community. Vending at Faires and events (such as Arcane and Madrigal) across New England, Caleb not only produces his own crafts but is also the most local supplier for Epic Armory one can find. In addition, he is an ongoing participant in Biccoline, the Quebecois week long LARP/Ren Faire/Drinking Contest held every summer just outside of Montreal. If you're interested in hearing what it's all about, hit him up some Friday night at your local event.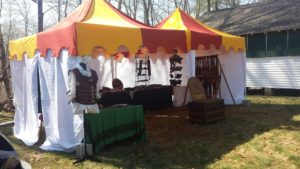 (Made by Hand vending at Arcane)
Arcane: Whilst taking a brief hiatus and perhaps reinventing itself as an invite-only game, Arcane is stepping up this year with their $500,000 investment in an interactive LARP site/adventure park. We all can't wait to see where their enthusiasm takes them next!
Community Endeavors
                2016 was also the year that the community gained and recognized its voice. We've had an explosion of content heading in to 2017 and here are the highlights:
LARPCast: Although it has been running for, like, 5 years at this point, LARPCast (http://larpcast.podbean.com/) is still making news and waves in the community with cutting edge interviews across the entire spectrum of the LARP hobby. Hosted by Mickey Golosovker (of NERO and Invictus) and Bill Tobin (a mysterious Life Model Decoy from Ohio that no one has actually ever met) they touch upon all aspects of the hobby, from creative direction to game execution. Give them a listen, you won't be disappointed and, if so inclined, back them on Patreon (https://www.patreon.com/larpcast).
Magestream: Interestingly enough, Magestry has begun a bi-weekly(?) podcast (https://themagestream.podbean.com/) focusing on their game, game world, rules and players. It's a fascinating listen so far and the first attempt that I am aware of to focus specifically on one LARP community.
LARP Girl: New England was lucky enough to score a new resident this year – YouTube's own LARP Girl! Kaza has been about the scene for a number of months now, documenting her adventures from NERO Hartford and Magestry all the way to New World Magischola and back again.
LARP Box: Bart and Orie Brizee (I think…I always get this name wrong), the owners/operators/dreamers of Burgundar successfully funded LARP Box (https://larpbox.com/), a monthly Loot-Crate type service delivering random quality merchandise geared toward the overall live gaming community – from leather pouches to journals and everything in between.